ID: 5de245eb01afe15d4ec10392
Satellite Image Classification
Checking for relation between climate anomalies, displacement and human conflict in Somalia
---
License: MIT License
Tags: Satellite Image sklearn python random forest
 Model stats and performance
| | |
| --- | --- |
| Dataset Used | USGS EarthExplorer |
| Framework | Custom Python |
| OS Used | Linux |
Inference time in seconds per sample.
Performance data is not available.
Screenshots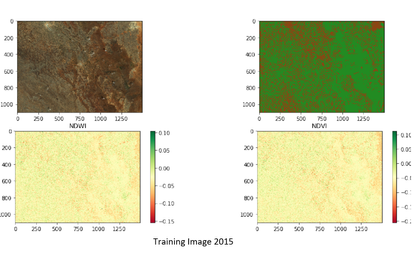 This work is part of Omdena's AI challenge in partnership with the UN Refugee Agency.
What it is?
We show that by using satellite imagery of Somalia, the image classification models are able to depict the effect of forced displacement as a result of violent conflict, to the environment through internal displaced human activity.
Check out: For detail
How to use it
python3 model/src.py
What are the requirements?
To get all the requirements and dependencies installed run the command.
pip install -r requirements.txt
Rudradeb Mitra
Palo Alto, USA
---
---
Founder of Omdena
Building a global collaborative platform to solve social problems using AI
User Reviews
Model has not been reviewed yet.