ID: 5d879015586f124c232d6025
Hand Gesture Recognizer
by Raj Kumar
Gesture recognition via CNN neural network implemented in Keras + Theano + OpenCV
---
License: MIT license
Tags: Theano Keras Hand Gesture Recognition Opencv Computer Vision CNN
 Model stats and performance
| | |
| --- | --- |
| Framework | Keras |
| OS Used | Linux |
| Publication | View |
Inference time in seconds per sample.
Screenshots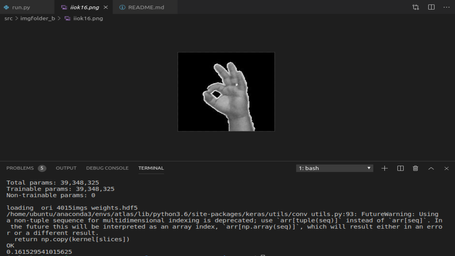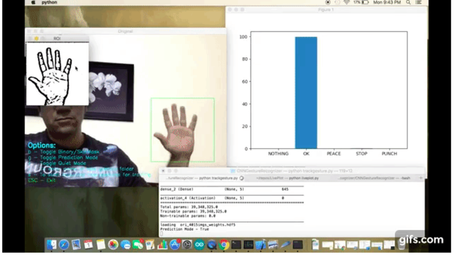 Hand Gesture Recognizer
WHAT IS IT?
Its a Gesture recognition via CNN neural network implemented in Keras + Theano + OpenCV used to detect Hand gestures. Simple CNN Architectutre is used to train it.
HOW TO USE?
To run the main script pass 200*200 image in the script or it will be interpolated will give less accurate results. Put model file in the same directory as the script file. Sample Command - python run.py -image imgfolder_b/iiiok60.png For Help Options and other optional options use - python run.py -h
usage: run.py [-h] [-use_gpu USE_GPU] [-image IMAGE]
Optional arguments: -h, --help show this help message and exit -use_gpu USE_GPU want to use gpu -image IMAGE mention image_file
WHAT ARE THE REQUIREMENTS?
To get all the requirements and dependencies installed run the command For GPU - pip install -r gpu_requirements.txt For CPU - pip install -r cpu_requirements.txt
---
Raj Kumar
New Delhi, India.
---
User Reviews
Model has not been reviewed yet.