ID: 5e82488afa365b518aa4940e
Covid19 classifier
by SHIVAM GARG
CNN based classifier to classify xray images of patients to covid positive or negative
---
License: Other
Tags: CNN,Tensorflow,Keras,Covid19
 Model stats and performance
| | |
| --- | --- |
| Framework | Keras |
| OS Used | Linux |
| Publication | View |
Inference time in seconds per sample.
Screenshots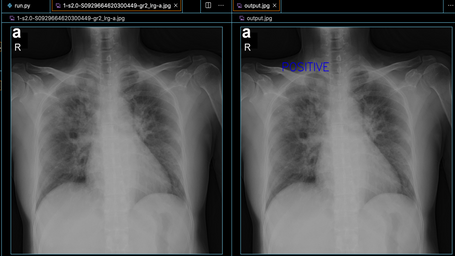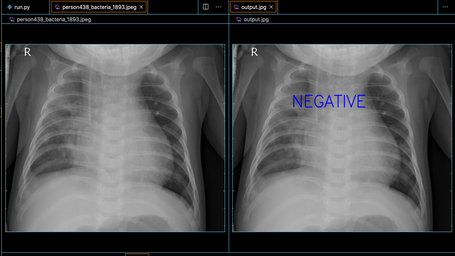 COVID19 CLASSIFIER
WHAT IS IT?
CNN based classifier to classify xray images of patients to covid positive or negative by finetunnig vgg16 in tf.keras.
HOW TO USE?
To run The Inference Script run this command python run.py input_image_path model_path
SAMPLE COMMAND
python run.py person438_bacteria_1893.jpeg covid19.model
| ARGUMENTS | DETAILS | HELP OPTIONS |
| --- | --- | --- |
| -input_image_path | INPUT IMAGE | Mention the input image path |
| -model_path | Model path | Mention the model path |
| | | |
WHAT ARE THE REQUIREMENTS?
To get all the requirements and dependencies installed run the command For GPU - pip install -r gpu_requirements.txt For CPU - pip install -r cpu_requirements.txt
SHIVAM GARG
New Delhi, India
---
---
A philosophy student cleverly disguised as a Coax Deep Learning engineer spending whole day, practically every day, experimenting with TensorFlow,Pytorch, and Caffe; dabbling with Python and C++; and drinking a wide variety of Coffee everyday.
User Reviews
Model has not been reviewed yet.