ID: 5dcea0ed503fb127005d370b
CAR DAMAGE DETECTION
by SHIVAM GARG
CNN FOR DETECTING CAR DAMAGE
---
License: MIT License
Tags: CNN Car Damage Detection Computer Vision Tensorflow Road Safety
 Model stats and performance
| | |
| --- | --- |
| Framework | Tensorflow |
| OS Used | Linux |
Inference time in seconds per sample.
Screenshots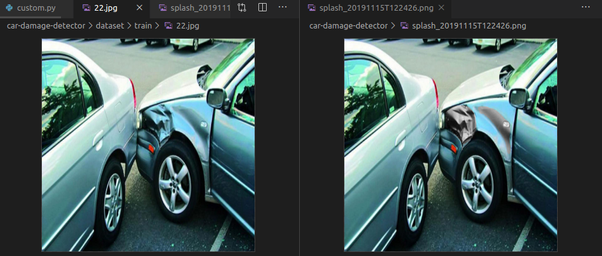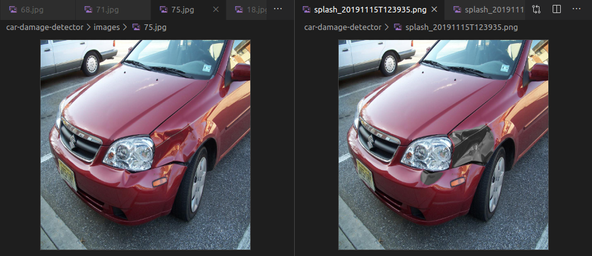 CAR DAMAGE DETECTOR
WHAT IS IT?
MASKED Rcnn based car damage detector. Pipeline is as follows: A) Extracting Regions of Interest(ROI) An: By masked Rcnn B) Classification task: Regions are passed on to a fully connected network which classifies them into different image classes. In our case, it will be scratch('damage') or background(car body without damage). C) Regression task: At last, a bounding box(BB) regression is used to predict the bounding boxes for each identified region for tightening the bounding boxes(getting exact BB defining relative coordinates)
How to use? To run the inference script run command RUN COMMANDS INSIDE CAR DETECTION FOLDER python run.py splash --weights mas k_rcnn_damage_0100.h5 --image 22.jpg
| ARGUMENTS | DETAILS | HELP OPTIONS |
| --- | --- | --- |
| splash | MODE | TRAIN OR DETECT |
| --weights | MODELPATH | Mention the model path |
| --image | INPUT | Mention the path Input |
WHAT ARE THE REQUIREMENTS?
To get all the requirements and dependencies installed run the command For GPU - pip install -r gpu_requirements.txt For CPU - pip install -r cpu_requirements.txt
SHIVAM GARG
New Delhi, India
---
---
A philosophy student cleverly disguised as a Coax Deep Learning engineer spending whole day, practically every day, experimenting with TensorFlow,Pytorch, and Caffe; dabbling with Python and C++; and drinking a wide variety of Coffee everyday.
User Reviews
Model has not been reviewed yet.